What connector types will I find at Public Charging facilities?
The 3 most common plug types in Europe are the Type 2, CCS and CHAdeMO.
The Type 2 is the standard cable most electric vehicle owners keep in their car, and is used to connect to AC chargers with charging speeds of up to 43 kW (400 V, 63 A, AC). So what are the others, exactly?
Most "destination" chargers in public places are equipped with a type 2 socket. The CCS is an enhanced version of the Type 2, which enables rapid charging and supports both AC and DC charging. The CHAdeMO plug was developed in Japan, and facilitates rapid DC charging. The appropriate plug types for each electric vehicle will be included in manufacturer literature.
It is also easy to figure out thanks to the differing shape and appearance of each plug. Much like the differently sized petrol and diesel nozzles to prevent misfuelling of ICE vehicles, the sockets and plugs should only connect to their appropriate counterpart.
Type 1
Mostly found in North America
Used for home charging on AC electricity supplies
Type 2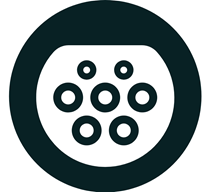 Mostly found in Europe
Used for home charging on AC electricity supplies
Tesla Type 2
Specific to Tesla Model S and Model X
Permits rapid DC charging
CCS (Combined Charging System)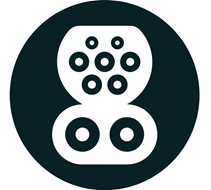 Combined with either a Type 2 or Type 1 socket
Permits rapid DC charging
This connector type can seem confusing at first. 
Manufacturers that permit CCS for their new models: BMW, Daimler, FCA, Ford, Jaguar, General Motors, Groupe PSA, Honda, Hyundai, Kia, Mazda, MG, Polestar, Renault, Tesla, Tata Motors and Volkswagen Group.
For a rapid charge, use a tethered Combo 2 plug.