The True Value of EV Charging Management Software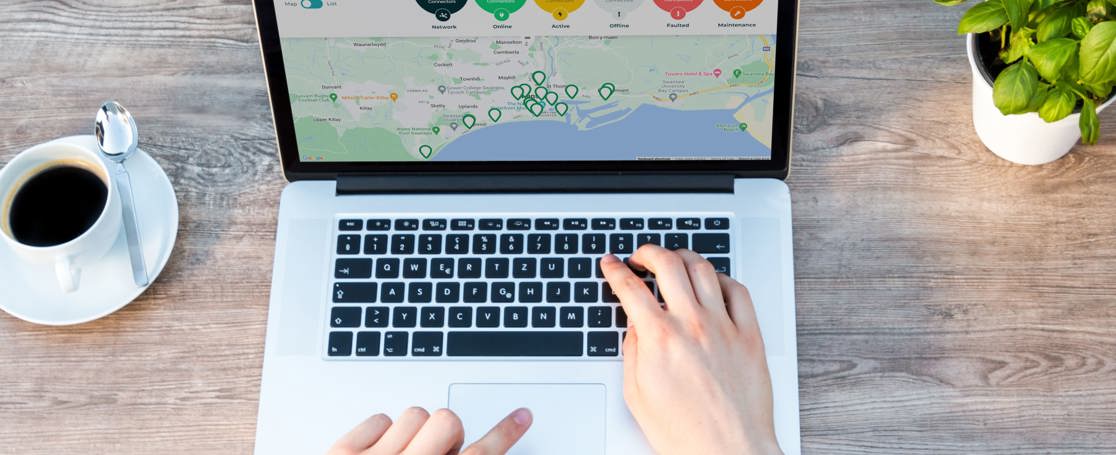 24 July 2023
As the world shifts towards electric vehicles (EVs), charging stations are becoming a common sight - and with that the need for efficient EV charging management software has become more critical than ever. In this article, we'll explain why and how this has the power to help businesses and drivers alike seamlessly transition to EV. 
The Rising Demand for EV Charging Stations
The number of electric cars in the UK is growing at a rapid pace. It was recorded that at the end of June 2023, there are now over 810,000 pure-electric cars and over 510,000 plug-in hybrids. Globally, experts predict a staggering 350 million EVs by 2030, representing 60% of vehicles sold globally. This surge in EVs necessitates robust charge point management software to handle the increasing demand.
In the UK, the adoption of EVs is being further propelled by significant investments in the EV sector. For instance, Tata, the owner of Jaguar Land Rover, has confirmed plans to build a flagship electric car battery factory in Somerset. This new plant, one of the largest in Europe, is expected to create 4,000 UK jobs and thousands more in the wider supply chain. The factory, which will initially make batteries for Jaguar Land Rover vehicles, is set to start production in 2026.
This investment is seen as a crucial step in securing the future of the UK car industry, as batteries typically account for a large proportion of the value of an electric vehicle. The UK government has also offered substantial subsidies to Tata, demonstrating its commitment to promoting EV adoption.
This shift towards electric mobility presents a golden opportunity for businesses to  generate new revenue streams by setting up charging stations and selling electricity. But how can they efficiently monitor their charge points? That's where a robust EV charging solution comes in.
What is EV Charging Management Software?
An EV charging management software, also known as an EV charging system or software for charging stations, is a centralized tool that improves the efficiency of all your charge points. It's not just a simple list of stations; it offers a wide range of features and services that make charging more convenient, thereby boosting the adoption of EVs.
For instance, Clenergy EV provides a consistent charging experience across all charge point brands, empowering owners with a comprehensive solution to manage usage, pricing, availability, and transactions seamlessly.
Who Benefits from EV Charging Solutions?
Charge point management tools offer a wide range of benefits, from increased convenience for drivers to increased profitability for charging station operators. Essentially, anyone who manages or owns electric vehicle charge points can benefit from using charge point management software. 
For operators, EV driving solutions are indispensable for full control over their charging stations. They can monitor the availability, utilisation, and revenue for all their charge points through a centralised portal and manage their fleet remotely.
EV charging management software offers a multitude of benefits to businesses that are beginning to implement them across their network. With the right platform, you can more effectively track charge point performance, capture more revenue from the charging stations, and better understand customer usage patterns to improve charging station placement and marketing strategies.
The Advantages of Charge Point Management Software
Streamlined Management
Charging management platforms simplify the process of managing charge points by automating many of the most time-consuming aspects of managing charging stations. This includes automating all the charge point data entry as well as the monthly reporting, reducing the need for manual input and saving valuable time.
User-friendly Interface
Charge point management tools are designed to be intuitive and easy to use, even for those with little or no experience in the EV industry. This eliminates the need for specialized training and allows you to use existing employees who may or may not have direct experience with EV charging stations.
Improved Communication
EV charging solutions facilitate communication between the various parties involved in setting up and managing charge points. This unified platform eliminates the need for multiple emails or phone calls to coordinate tasks that affect the same areas of the charging infrastructure.
Reduced Time & Costs
The right EV charging tools greatly reduce time and costs associated with installation, maintenance, and data collection. Charge point management software can help reduce maintenance time by scheduling regular inspections and auto-notifying technicians of issues or malfunctions.
Real-time & Historical Data
EV charging management software provides real-time and historical data regarding each charge point and station group. This detailed information is crucial for ensuring smooth operation and maintaining regular customer relations.
Energy Efficiency
EV charging systems greatly reduce energy costs by optimizing the charging process and minimizing downtime at charge points. Charge point management software will allow you to see exactly how much electricity each charge point is using on a daily basis, helping you to maximize profits from each one.
Easy Expansion
EV charging management software allows users to easily add new charging station locations and manage station groups remotely. Intelligent EV charging solutions will allow you to quickly see which charge points are in use so you can place more as needed.
Convenience for EV Drivers
Charging apps make it easy for EV drivers to search for nearby charge points. This is especially useful as there are now thousands of public charging points across the globe with many more being built every year.So, once you have EV charging management software in place, you can access all the information about your charge points in one place and manage them smarter, not harder. This not only enhances the efficiency of your operations but also contributes to a more sustainable and eco-friendly future.
Whether you are taking the first steps in your sustainable journey or looking to improve your current green initiatives, equipping your workplace with electric vehicle (EV) charging points and an efficient management system is a remarkable move forward.
Why wait when you can kickstart your journey to a smarter, greener future right now - let's start the conversation!