Benefits of Fleet Charging Software
Gain the benefits of a fully electrified fleet with our integrated EV charging software.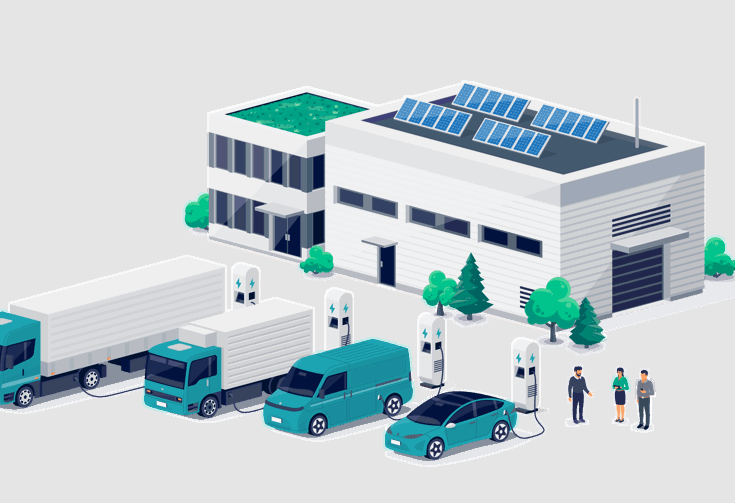 Monitoring Your Fleet Charging
Fleet managers can easily monitor vehicles in real time with vehicle telematics. Our full-service solution gives you the ability to check battery charge, GPS location, charge point information, assigned tariffs, and access route planning information.
E-Roaming Across Public Charging Networks
Our open network means your electric vehicle fleet can charge from over 400,000 across the UK and Europe. Just by tapping their Clenergy EV contactless RFID card, electric vehicle fleet drivers can be sure of a recharge, wherever their journey takes them.
Benefit from Off-Peak Fleet Charging
Schedule tariffs and charge at off-peak times to maximize savings for your company vehicles. Prioritise certain vehicles to be charged first using dynamic and peak capacity management.
You can maximize your operating expenditure with the use of renewable energy by using Automated Demand Response (ADR) which schedules your fleet charging when the grid is running at a certain % of renewable energy.
Fleet Charging - Carbon Reporting
Keep track of your CO2 targets with our full reporting functionality. By monitoring and maintaining your charge point network, you'll be able to see your electric vehicle fleet activity. To help you monitor your network, you will receive monthly reports covering:
Charger details - this report will include information about maintenance, status, last seen times, vendor, affiliation groups, and more.
User details - this report will include information regarding payment methods, user ID, charge times, total kWh, tariffs, and more.
Futureproof your Fleet Charging
Take advantage of innovative developments like V2X/V2G charging. The ability to sell power back to the grid can enable you to take full advantage of your own mobile power station
Track residential charging
By using Clenergy EV you can track home charging with our software, meaning less administration costs to your accounts team. All transactions are logged in one place.